Yachting World Diesel Fuel Wharf Port Vila, Vanuatu.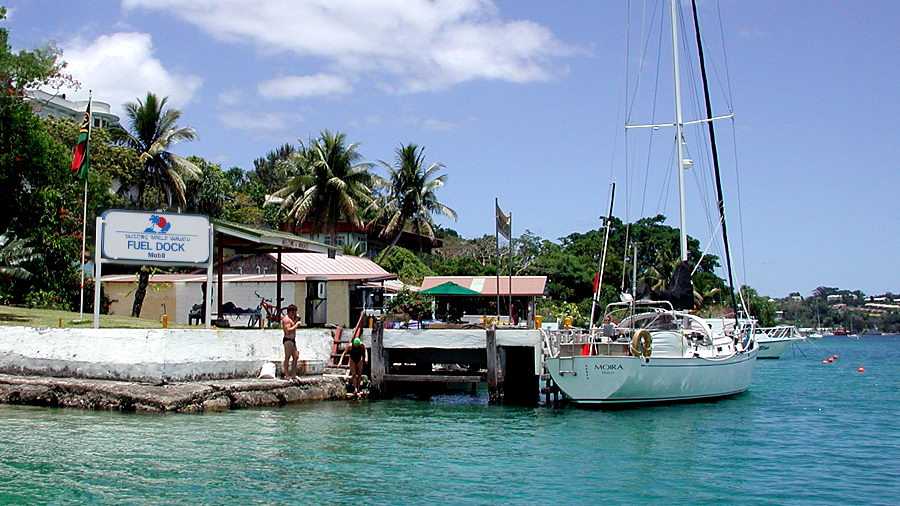 Fueling up in Vanuatu is a serious problem everywhere but at the Yachting World Fuel Wharf. This is where you will want to top up your diesel tanks before and after cruising the islands of Vanuatu.
The Yachting World fuel wharf only sells diesel fuel and drinking water, you can buy oil, grease, and gasoline at the service station across the road.
Fresh water and trash disposal is available for free to yachts using our swing moorings. We charge yachts not using our facilities vt 1000 for water and vt 500 for rubbish disposal.
There is 2.3m water depth alongside at lowest tide and 4m at high tide.
Yachts with masts exceeding 20 metres in height must enter the inner harbour via the southern channel.
Our hours are:
08:00 to 16:00 during the week
08:00 to 12:00 on Saturday.
We are closed on Sunday and public holidays.
When you come alongside for fuel, we will help you tie up and assist you with fueling. We rigorously inspect the fuel and keep our filters clean so you are assured of clean fuel with no sediment, rust or water.
Fresh water is available at the fuel wharf and you can fill up your tanks with town water. It is good water, but a bit hard. If you are using our mooring or marina facilities there is no charge for water but we do charge a small fee for other yachts to fill up their tanks.
You can buy fuel duty free and save lots of money
When you are clearing out, tell the customs officer that you would like to buy duty free diesel fuel from Yachting World. He will give you the necessary forms. Bring the forms to us when you are finished clearing out and we will fill up your tanks duty free. And that's a real savings.
If your yacht's draft exceeds 3.5 metres Yachting World will assist you in getting the best possible fuel price and our staff will make all the arrangements for a fuel truck to meet you at the Star Wharf. The Harbour Master will charge a fee for the use of the commercial wharf. Fuel trucks can not deliver directly to yachts at our fuel wharf.