WiFi & Internet for Yachts
in Port Vila, Vanuatu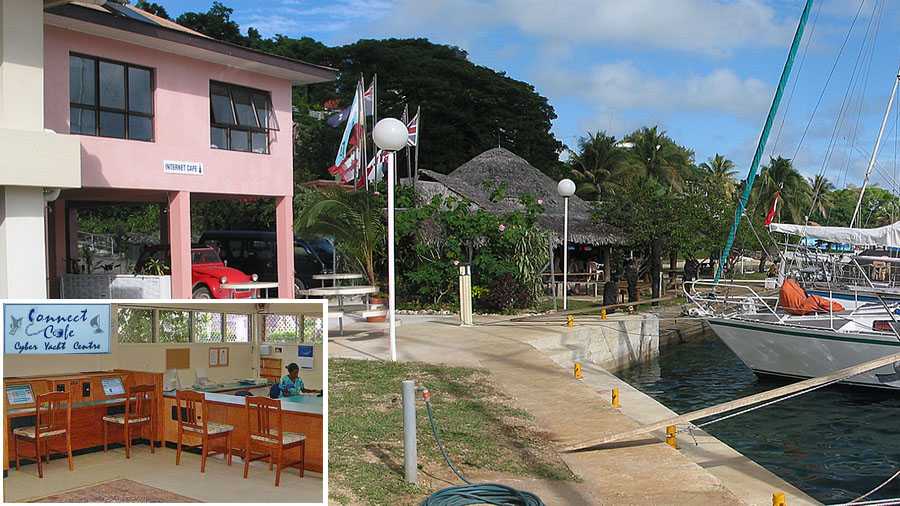 Connect Cafe at Yachting World.
The Connect Cafe is right next door to the Waterfront Bar and Grill, just a few steps from the dinghy dock or, if you are tied up at our marina, you will be looking at it when you step ashore.
The Connect Cafe offers high speed WiFi in the Cafe and to the yachts on our seawall and moorings. Just connect to the Yachting World hotspot and start your browser. Pay with a credit card and you can immediately enjoy our very fast Fibre Optic Broadband connection to the World Wide Web.
If you have an older notebook that is difficult to configure for wireless, you can hook up to our LAN in the Connect Cafe.
Or, if you prefer, come into the Connect Cafe sit down and start accessing your email account or browsing the Internet on our computers with fast fibre optic broadband connection.
We'll be open right through lunch from Monday to Saturday 08:30 to 16:30, but will be closed on Sunday and public holidays.
Internet costs are much higher in Vanuatu than in Australia. We are, after all, a small country far from the main Internet lines. We recognise the high cost of Internet access is a concern and have installed a dedicated International phone line so our computers are always on-line, ready to go when you sit down.
Broadband WiFi
Enjoy Broadband WiFi to your yacht

Select Yachting World in your list of available WiFi connections, open your browser, select a payment plan - from $5.00 for 1 Day, or $15 for 7 Days. Enter your credit card details and surf away.